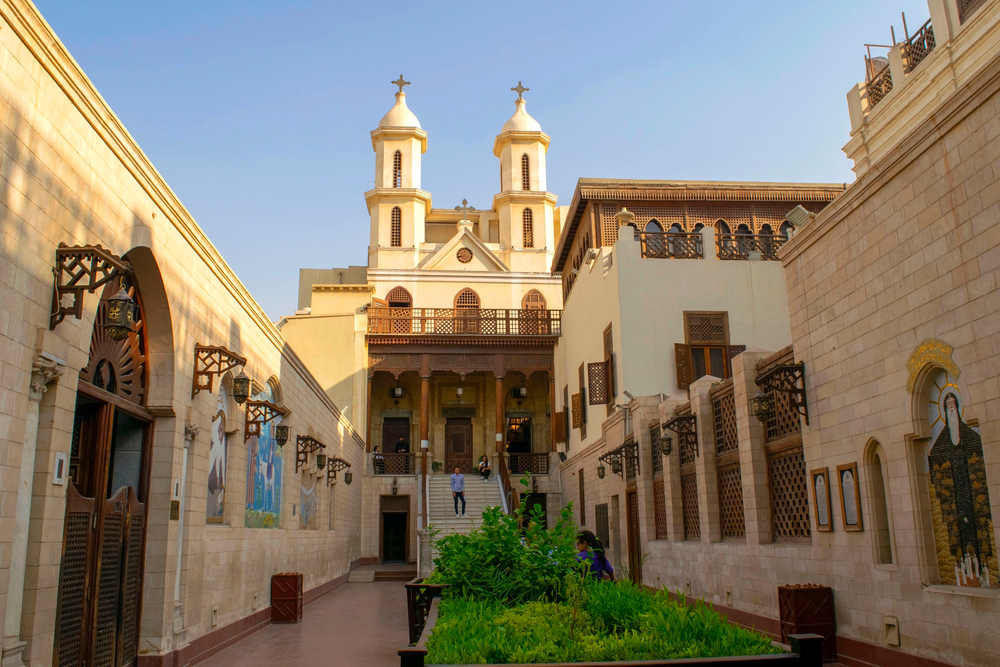 Immerse yourself in the rich cultural and historical heritage of Egypt with our captivating day trip to Jewish, Coptic, and Old Cairo from Ain El Sokhna Port. Explore the ancient synagogues, churches, and mosques that showcase the country's religious diversity and architectural marvels. Visit iconic landmarks such as the Hanging Church, Ben Ezra Synagogue, and the Citadel of Saladin. This tour provides a unique opportunity to witness the harmonious coexistence of different faiths and delve into the captivating stories of Cairo's past. Book now to secure your spot and embark on a journey of discovery.
Overview:
Embark on a fascinating journey through time with our Day Trip to Jewish, Coptic, and Old Cairo from Ain El Sokhna Port. This immersive tour takes you to the heart of Cairo, where you will explore the historical and religious landmarks that shaped the city's identity. From ancient synagogues to iconic churches and mosques, you'll witness the vibrant tapestry of faith and culture that defines Egypt. Our expert guides will provide insightful commentary, ensuring a memorable and enriching experience for all. Book now and unlock the secrets of Cairo's diverse heritage.
Highlights :
Ben Ezra Synagogue: Visit one of the oldest synagogues in Egypt, known for its fascinating history and beautiful architecture.
Hanging Church: Explore the renowned Saint Virgin Mary's Coptic Orthodox Church, built atop the Roman fortress walls.
Coptic Museum: Discover a remarkable collection of Coptic art, manuscripts, and artifacts that offer a glimpse into Egypt's Christian history.
Citadel of Saladin: Marvel at the imposing fortress that houses the Mosque of Muhammad Ali, known for its magnificent Ottoman architecture.
Khan El Khalili Bazaar: Experience the vibrant atmosphere of Cairo's most famous market, where you can shop for traditional crafts, spices, and souvenirs.
Advantages:
Expert Guides: Our knowledgeable guides will provide detailed insights into the historical and cultural significance of each site.
Comfortable Transportation: Enjoy a comfortable and air-conditioned vehicle throughout the tour, ensuring a relaxed and pleasant journey.
Customizable Options: We offer customizations to suit your preferences, including changing the pickup time and adding optional activities.
Instant Confirmation: Book your tour now and receive instant confirmation, guaranteeing your spot on this enriching adventure.
Itinerary:
7:00 AM: Pick-up from Ain El Sokhna Port
9:30 AM: Arrival in Cairo
Visit the Ben Ezra Synagogue
Explore the Hanging Church and Coptic Museum
Lunch at a local restaurant (included)
Visit the Citadel of Saladin and the Mosque of Muhammad Ali
Enjoy free time at Khan El Khalili Bazaar
6:00 PM: Return to Ain El Sokhna Port
8:00 PM: Drop-off at Ain El Sokhna Port
Inclusions:
Round-trip transportation from Ain El Sokhna Port
Professional English-speaking guide
Entrance fees to the mentioned sites
Lunch at a local restaurant
Bottled water during the tour
Exclusions:
Pricing Information:
| Single | 2- 3 Persons | 4- 6 Persons | 7- 10 Persons |
| --- | --- | --- | --- |
| 212 $ | 162 $ | 152 $ | 127 $ |
Tips and Advice for Travelers:
Dress modestly when visiting religious sites, covering shoulders and knees.
Wear comfortable shoes suitable for walking on uneven surfaces.
Bring sunscreen, a hat, and sunglasses to protect yourself from the sun.
Keep a bottle of water with you to stay hydrated throughout the tour.
Follow the instructions of your guide and respect the rules of each site visited.
Trip Notes:
The order of the itinerary may vary based on local conditions or unforeseen circumstances.
The tour operates with a minimum of X participants. If the minimum number is not reached, alternative arrangements will be made.
Customizations, including changing the pickup time or adding optional activities, can be arranged upon request.
FAQs:
Q: Can I customize the itinerary? A: Yes, we offer customizations to suit your needs. Contact us to discuss any specific requirements or changes.
Q: Is lunch included in the tour? A: Yes, a delicious lunch at a local restaurant is included in the tour package.
Q: How do I book the tour? A: Booking is easy! Simply click the "Book Now" button, provide the necessary details, and receive instant confirmation of your booking.