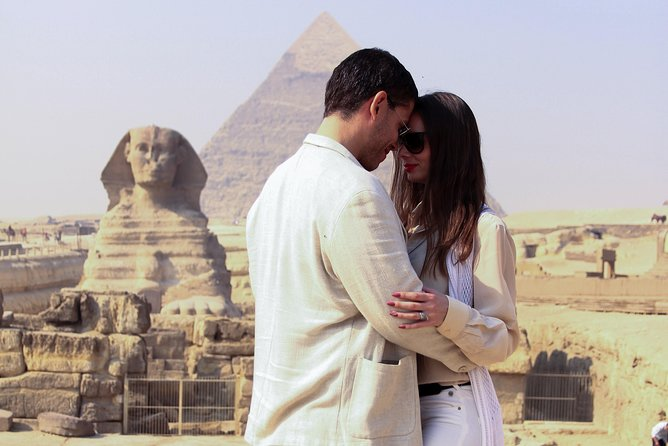 Embark on an extraordinary day trip from Sokhna Port and venture into the ancient wonders of Egypt. Explore the iconic Pyramids of Giza and encounter the enigmatic Sphinx as you delve into the mysteries of this world-renowned archaeological site. Immerse yourself in the fascinating history, marvel at the architectural grandeur, and create lasting memories on this unforgettable journey. Book your tour now and experience the awe-inspiring beauty of the Pyramids and Sphinx.
Overview:
Join us on a captivating day trip to the Pyramids and Sphinx from Sokhna Port. Discover the architectural marvels that have fascinated travelers for centuries and unravel the secrets of ancient Egypt. Our expert guides will provide insightful commentary and ensure a seamless and enriching experience. From the moment you step off your cruise ship, you'll be whisked away on a fascinating adventure that combines history, culture, and breathtaking sights. This tour promises an unforgettable day of exploration and discovery.
Highlights :
Visit the Pyramids of Giza: Marvel at the majestic structures that have stood the test of time and learn about their significance in Egyptian history.
Encounter the Great Sphinx: Behold the iconic Sphinx, a mythical creature with the body of a lion and the face of a pharaoh, and contemplate its enigmatic allure.
Explore the Valley Temple: Step back in time as you explore the ancient mortuary temple located next to the Sphinx and discover its architectural intricacies.
Optional Camel Ride: Experience the thrill of riding a camel through the desert landscape surrounding the pyramids (additional cost).
Advantages:
Expert Guides: Our knowledgeable guides will provide fascinating insights into the history, mythology, and culture of ancient Egypt.
Comfortable Transportation: Enjoy a comfortable and air-conditioned vehicle throughout the tour, ensuring a relaxed and pleasant journey.
Customizable Itinerary: We offer flexible options to tailor the tour according to your preferences, including adjusting the pickup time to suit your schedule.
Instant Confirmation: Book your tour now and receive instant confirmation, guaranteeing your spot on this incredible adventure.
Itinerary:
8:00 AM: Pick-up from Sokhna Port
10:00 AM: Arrival at the Pyramids of Giza
Explore the Pyramids, Sphinx, and Valley Temple
Optional camel ride (additional cost)
1:00 PM: Lunch at a local restaurant (included)
2:00 PM: Return to Sokhna Port
4:00 PM: Drop-off at Sokhna Port
Inclusions:
Round-trip transportation from Sokhna Port
Professional English-speaking guide
Entrance fees to the Pyramids of Giza, Sphinx, and Valley Temple
Lunch at a local restaurant
Bottled water during the tour
Exclusions:
Gratuities (optional)
Camel ride (additional cost)
Pricing Information:
| Single | 2- 3 Persons | 4- 6 Persons | 7- 10 Persons |
| --- | --- | --- | --- |
| 222 $ | 162 $ | 152 $ | 127 $ |
Tips and Advice for Travelers:
Wear comfortable clothing and shoes suitable for walking.
Bring sun protection, such as a hat, sunglasses, and sunscreen.
Carry a bottle of water to stay hydrated throughout the tour.
Respect the historical sites and follow the instructions of your guide.
Capture memorable photos but be mindful of photography restrictions in certain areas.
Trip Notes:
This tour involves moderate walking, and some areas may have uneven surfaces. It may not be suitable for individuals with mobility issues.
The camel ride is optional and can be arranged on-site for an additional cost.
Please notify us in advance of any dietary restrictions or allergies for the lunch arrangements.
FAQs:
Q: How long does the tour from Sokhna Port to the Pyramids and Sphinx take? A: The tour duration is approximately 8 hours, including transportation time.
Q: Can I customize the itinerary? A: Yes, we offer customizations to suit your needs. Contact us to discuss any specific requirements or changes.
Q: Is lunch included in the tour? A: Yes, a delicious lunch at a local restaurant is included in the tour package.
Q: How do I book the tour? A: Booking is easy! Simply click the "Book Now" button, provide the necessary details, and receive instant confirmation of your booking.