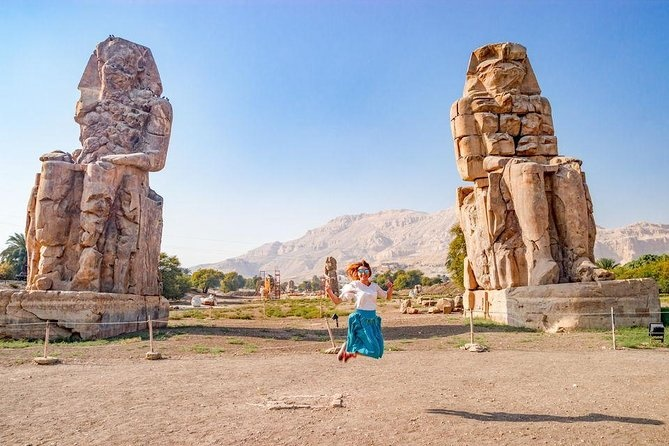 Experience the wonders of ancient Egypt on our full-day tour from Safaga to Luxor. Immerse yourself in the captivating history and culture as you visit the iconic landmarks and archaeological sites. From the majestic temples of Karnak and Luxor to the grandeur of the Valley of the Kings, this tour will take you on a journey through time. Book now for an unforgettable adventure and receive instant confirmation!
Overview:
Embark on a thrilling one-day adventure from Safaga to Luxor, the ancient capital of Egypt. Discover the awe-inspiring temples, explore mysterious tombs, and marvel at the exquisite craftsmanship of ancient Egyptian civilization. Our expert guides will accompany you throughout the tour, providing insightful commentary and ensuring a seamless experience. Whether you're a history enthusiast, an archaeology buff, or simply curious about the wonders of the past, this tour promises an unforgettable day of exploration.
Highlight:
Visit the Karnak Temple Complex, a sprawling complex of temples, pylons, and obelisks.
Explore the Luxor Temple, a magnificent structure dedicated to the Theban triad of Amun, Mut, and Khonsu.
Discover the Valley of the Kings, the final resting place of pharaohs and nobles.
Marvel at the Colossi of Memnon, two colossal statues that once guarded the entrance to Amenhotep III's mortuary temple.
Enjoy a delicious lunch at a local restaurant, savoring authentic Egyptian cuisine.
Take a relaxing felucca boat ride along the Nile River, soaking in the serene beauty of the surroundings.
Advantages:
Expertly crafted itinerary that covers the must-see highlights of Luxor in just one day.
Hassle-free transportation from Safaga to Luxor and back in a comfortable, air-conditioned vehicle.
Knowledgeable and friendly local guides who bring the history of Luxor to life.
Instant confirmation upon booking, ensuring peace of mind for travelers.
Customization options available, including flexible pickup times to suit your preferences.
Itinerary:
05:00 AM: Pick up from Safaga Port and depart for Luxor.
09:00 AM: Arrive in Luxor and start your tour at the Karnak Temple Complex.
11:30 AM: Visit the Luxor Temple.
12:30 PM: Enjoy a delectable lunch at a local restaurant.
01:30 PM: Explore the Valley of the Kings and witness the impressive tombs.
03:00 PM: Admire the Colossi of Memnon.
03:30 PM: Take a relaxing felucca boat ride on the Nile River.
05:00 PM: Depart from Luxor and return to Safaga Port.
09:00 PM: Arrival at the port in Safaga.
Inclusions:
Round-trip transportation from Safaga Port in a comfortable, air-conditioned vehicle.
Professional English-speaking guide.
Entrance fees to all attractions mentioned in the itinerary.
Lunch at a local restaurant.
Felucca boat ride on the Nile River.
All taxes and service charges.
Exclusions:
Gratuities (optional).
Personal expenses.
Any additional activities or attractions not mentioned in the itinerary.
Pricing Information:
| Single | 2- 3 Persons | 4- 6 Persons | 7- 10 Persons |
| --- | --- | --- | --- |
| 280 $ | 185 $ | 170 $ | 160 $ |
Tips and Advice for Travelers:
Wear comfortable shoes and clothing suitable for walking and exploring archaeological sites.
Don't forget to bring a hat, sunscreen, and sunglasses to protect yourself from the sun.
Carry a small backpack with essentials such as water, snacks, and a camera.
Respect the cultural and religious significance of the sites by dressing modestly and behaving respectfully.
Follow the instructions of your guide and adhere to the designated paths and areas within the archaeological sites.
Keep hydrated throughout the tour by drinking plenty of water, especially in the hot weather.
Be prepared for a day filled with walking and standing, so consider bringing a lightweight folding chair or a portable seat cushion if needed.
Capture the memories by bringing a camera or smartphone to take photos, but remember to ask for permission before taking pictures of locals or sensitive areas.
Stay with your group and follow the scheduled timings to make the most of your time in Luxor.
If you have any specific dietary requirements or allergies, inform us in advance, and we will accommodate your needs during the lunch break.
Trip Notes:
This tour requires a moderate level of physical fitness due to walking and standing for extended periods.
The tour operates daily and is available year-round, excluding major public holidays.
Pickup times can be customized to suit your preferences. Please inform us of any changes at the time of booking.
The order of the attractions visited may vary based on local conditions and availability.
The tour may involve sharing the vehicle with other travelers from different hotels in Safaga.
Our vehicles are equipped with air conditioning for your comfort during the journey.
Our guides are fluent in English, ensuring clear communication and an immersive experience.
FAQs:
Q: Can I book this tour for a private group? A: Yes, we offer private tours for groups of any size. Please contact us for more information and a personalized quote.
Q: Are meals included in the tour? A: Yes, a delicious lunch at a local restaurant is included in the tour package.
Q: Can I customize the itinerary or add additional attractions? A: Absolutely! We understand that each traveler may have unique preferences. Contact us to discuss customization options and additional attractions.
Q: Is the tour suitable for children? A: Yes, the tour is family-friendly. Children of all ages are welcome to join. Reduced prices are available for children aged 3-12.
Q: How can I book the tour? A: Booking is easy! Simply click the "Book Now" button on our website and follow the instructions. Instant confirmation will be provided upon successful booking.