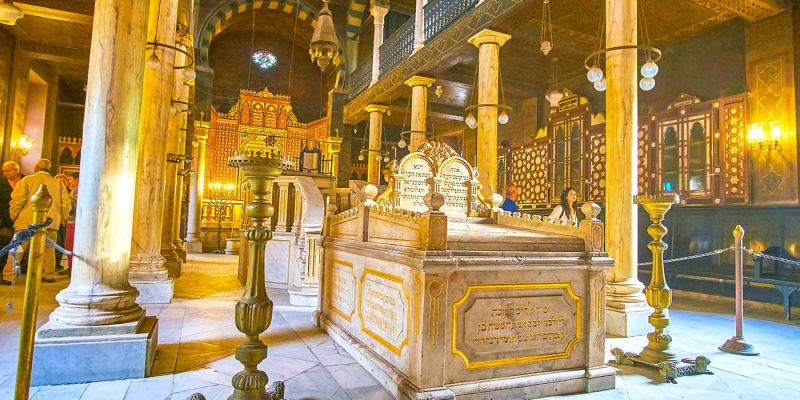 Discover the rich religious heritage of Cairo on our captivating overnight tour from Port Said. Explore the ancient Coptic Christian sites, including the famous Hanging Church, St. Sergius Church, and the Coptic Museum. Immerse yourself in the history and culture of the Jewish community at the historic Ben Ezra Synagogue. Book now and secure your spot to delve into the spiritual wonders of Cairo's Coptic and Jewish heritage. Instant confirmation available upon clicking the "Book Now" button.
Overview:
Embark on a spiritual journey through Cairo's Coptic and Jewish history with our overnight tour from Port Said. Led by expert guides, this tour takes you to iconic religious sites, including the renowned Hanging Church and St. Sergius Church. Explore the fascinating Coptic Museum, home to a vast collection of artifacts, and visit the ancient Ben Ezra Synagogue, a testament to the city's Jewish heritage. With customizable options and instant confirmation, this tour promises a deep dive into the religious and cultural tapestry of Cairo.
Highlights:
Explore the historic Coptic Christian sites in Cairo, including the Hanging Church and St. Sergius Church.
Visit the Coptic Museum and discover its impressive collection of Coptic art, manuscripts, and religious artifacts.
Immerse yourself in the spiritual ambiance of the Ben Ezra Synagogue, an ancient Jewish place of worship.
Gain insight into the religious and cultural heritage of Cairo from expert guides.
Enjoy a comfortable and convenient overnight stay in Cairo, with customizable options to suit your needs.
Benefit from instant confirmation upon booking, ensuring a hassle-free experience.
Advantages:
Expertly guided tour: Our knowledgeable guides provide insightful commentary, enriching your understanding of Cairo's religious history.
Time-efficient itinerary: Maximize your time with a well-planned tour that covers the major Coptic and Jewish sites in Cairo.
Customization options: Tailor the tour to your preferences, including flexible pickup times, overnight accommodation choices, and the option to extend your stay.
Hassle-free booking: Book now and receive instant confirmation, guaranteeing your spot on the tour.
Comfortable transportation: Enjoy a smooth and air-conditioned ride from Port Said to Cairo.
Itinerary:
Day 1:
Meet your friendly guide at Port Said Port and board a comfortable, air-conditioned vehicle.
Journey to Cairo and arrive at the Coptic area to explore the Hanging Church (St. Virgin Mary's Coptic Orthodox Church).
Visit St. Sergius Church, an ancient church associated with the Holy Family's stay during their time in Egypt.
Delve into the rich history of Coptic Christianity at the Coptic Museum, which houses a remarkable collection of religious artifacts.
Enjoy a delicious lunch at a local restaurant.
Continue the tour with a visit to the Ben Ezra Synagogue, one of Cairo's oldest synagogues with a significant historical background.
Check-in to your preferred hotel in Cairo and enjoy free time to explore the city or relax.
Day 2:
After breakfast at your hotel, depart from Cairo and return to Port Said Port, bidding farewell to your guide.
Inclusions:
Pick-up and drop-off at Port Said Port.
Transportation in a comfortable, air-conditioned vehicle.
Expert, English-speaking guide.
Entrance fees to all attractions mentioned in the itinerary.
Overnight accommodation in Cairo (based on your chosen package).
Meals as specified in the itinerary (1 lunch, 1 breakfast).
Exclusions:
Gratuities (recommended for guides, drivers, and hotel staff).
Personal expenses.
Any additional activities or services not mentioned in the itinerary.
Pricing:
| Single | 2- 3 Persons | 4- 6 Persons | 7- 10 Persons |
| --- | --- | --- | --- |
| 547 $ | 327 $ | 312 $ | 292 $ |
Tips and Advice for Travelers:
Dress modestly when visiting religious sites, covering your shoulders and knees.
Comfortable walking shoes are recommended as there will be some walking involved.
Bring a hat, sunglasses, and sunscreen to protect yourself from the sun.
Stay hydrated throughout the tour and carry a bottle of water.
Respect the religious customs and traditions observed at the visited sites.
Keep your camera handy to capture the beauty of the churches and synagogue.
Trip Notes:
This tour involves moderate physical activity, including walking and climbing steps.
The order of the itinerary may be subject to change based on local conditions and traffic.
Please inform us in advance if you have any dietary restrictions or special requirements.
FAQs:
Q: Can I customize the pickup time? A: Yes, we offer flexible pickup times to accommodate your needs. Please contact our customer support team after booking to arrange the preferred pickup time.
Q: Are the entrance fees included in the tour price? A: Yes, the tour price includes all entrance fees to the attractions mentioned in the itinerary.
Q: Is accommodation included in the tour price? A: Yes, overnight accommodation in Cairo is included based on your chosen package.