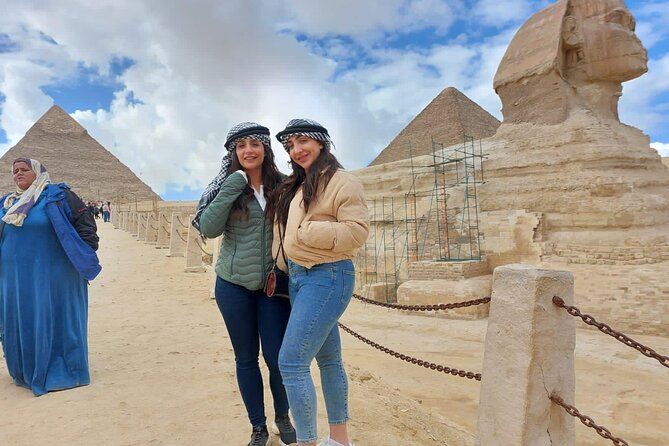 Discover the wonders of ancient Egypt with our captivating Overnight Tour to Cairo from Ain El Sokhna Port. Immerse yourself in the rich history and culture of Cairo as you explore iconic landmarks, visit world-famous museums, and witness the enchanting beauty of the Nile River. This overnight adventure offers an in-depth experience of Cairo's treasures, allowing you to create lifelong memories. Book now and secure your spot for an unforgettable journey through time.
Overview:
Embark on an enchanting overnight adventure to Cairo from Ain El Sokhna Port and delve into the heart of ancient Egypt. Immerse yourself in the splendor of the pyramids, explore the magnificent Egyptian Museum, sail along the iconic Nile River, and experience the vibrant atmosphere of Cairo. This tour provides a comprehensive exploration of Cairo's highlights, ensuring an unforgettable and immersive experience. Book now to secure your place on this captivating overnight tour.
Highlights :
Giza Pyramids: Marvel at the majestic pyramids of Giza, including the Great Pyramid of Khufu, and uncover the secrets of these ancient wonders.
Sphinx: Encounter the enigmatic Sphinx and admire its mesmerizing beauty.
Egyptian Museum: Explore the world-renowned Egyptian Museum, home to a vast collection of artifacts, including the treasures of Tutankhamun.
Old Cairo: Visit the historic district of Old Cairo, including the Hanging Church and the Ben Ezra Synagogue, to witness the city's multicultural heritage.
Nile River Dinner Cruise: Enjoy a delightful dinner cruise along the Nile River, indulging in delicious cuisine while admiring the captivating views of Cairo's skyline.
Advantages:
Expert Guides: Our knowledgeable guides will provide fascinating insights into Cairo's history, culture, and landmarks.
Comfortable Accommodation: Stay overnight in a carefully selected hotel in Cairo, ensuring a comfortable and convenient experience.
Flexible Customizations: We offer customizations to suit your preferences, including changing the pickup time and extending the tour.
Instant Confirmation: Book your tour now and receive instant confirmation, guaranteeing your spot on this captivating journey.
Itinerary:
Day 1:
7:00 AM: Pick-up from Ain El Sokhna Port
Travel to Cairo in a comfortable, air-conditioned vehicle
Visit the Giza Pyramids and the Sphinx
Enjoy a delicious lunch at a local restaurant
Explore the Egyptian Museum and its incredible collection of ancient artifacts
Transfer to your hotel in Cairo for check-in and leisure time
Overnight stay in Cairo
Day 2:
Breakfast at the hotel
Visit the historic district of Old Cairo, including the Hanging Church and the Ben Ezra Synagogue
Experience a delightful dinner cruise along the Nile River, including a sumptuous dinner and live entertainment
Transfer back to Ain El Sokhna Port
7:00 PM: Drop-off at Ain El Sokhna Port
Inclusions:
Round-trip transportation from Ain El Sokhna Port
Professional English-speaking guide
Entrance fees to the Giza Pyramids, Sphinx, and Egyptian Museum
Overnight accommodation in Cairo
Breakfast at the hotel
Lunch and dinner as mentioned in the itinerary
Nile River dinner cruise
Exclusions:
Pricing Information:
| Single | 2- 3 Persons | 4- 6 Persons | 7- 10 Persons |
| --- | --- | --- | --- |
| 545 $ | 325 $ | 310 $ | 290 $ |
Tips and Advice for Travelers:
Dress comfortably and wear suitable footwear for walking and exploring historical sites.
Carry sunscreen, a hat, sunglasses, and a scarf to protect yourself from the sun.
Stay hydrated by carrying a water bottle during the tour.
Respect the local customs and traditions while visiting religious sites.
Keep your belongings secure and be cautious of your surroundings in crowded areas.
Trip Notes:
This tour requires a minimum of X participants. If the minimum is not reached, alternative arrangements will be made.
The order of the itinerary may vary based on local conditions or unforeseen circumstances.
Customizations, including changing the pickup time or extending the tour, can be arranged upon request.
FAQs:
Q: Can I customize the itinerary? A: Yes, we offer customizations to suit your needs. Contact us to discuss any specific requirements or changes.
Q: Is the overnight accommodation included? A: Yes, the tour includes an overnight stay in a hotel in Cairo.
Q: How do I book the tour? A: Booking is easy! Simply click the "Book Now" button, provide the necessary details, and receive instant confirmation of your booking.