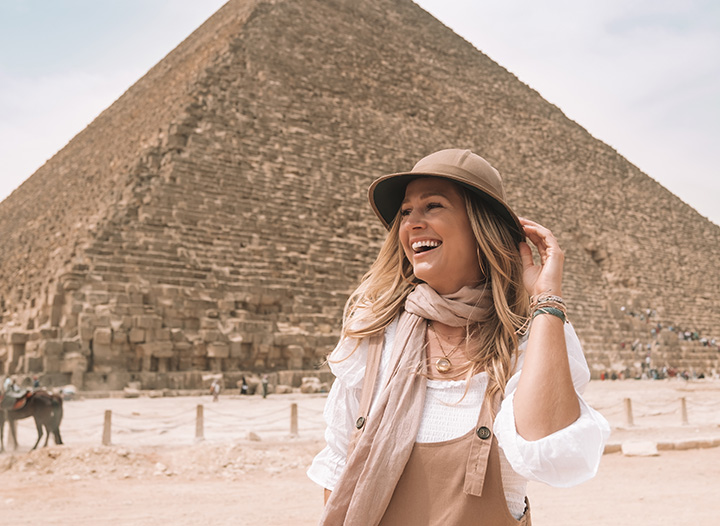 Discover the wonders of Cairo on an unforgettable overnight tour from Alexandria. Immerse yourself in the history and culture of Egypt's vibrant capital city. Explore the iconic Pyramids of Giza, visit the world-renowned Egyptian Museum, and experience the bustling streets of Cairo. Book now for an enriching adventure through ancient treasures!
Overview:
Embark on a captivating Overnight Tour to Cairo From Alexandria and experience the best of Egypt's capital city. Explore the ancient pyramids, marvel at priceless artifacts in the Egyptian Museum, stroll through vibrant markets, and indulge in authentic Egyptian cuisine. Led by expert guides, this tour promises an immersive journey through history, culture, and modern life in Cairo.
Highlights :
Pyramids of Giza: Marvel at the majestic Pyramids of Giza, including the Great Pyramid of Khufu, one of the Seven Wonders of the Ancient World. Explore the complex, discover the enigmatic Sphinx, and learn about the fascinating history and construction techniques behind these iconic structures.
Egyptian Museum: Visit the world-renowned Egyptian Museum, home to an extensive collection of ancient artifacts, including the treasures of Tutankhamun. Admire the iconic golden mask and other precious relics that showcase Egypt's rich cultural heritage.
Khan El Khalili Bazaar: Immerse yourself in the bustling atmosphere of Cairo's famous market. Wander through the labyrinthine streets, browse for souvenirs, spices, and traditional crafts, and experience the vibrant colors and aromas of Egyptian culture.
Authentic Egyptian Cuisine: Enjoy a delicious lunch at a local restaurant, savoring traditional Egyptian dishes and flavors.
Customizable Itinerary: Tailor the tour to your preferences by adjusting the pickup time, adding optional activities, or extending your stay in Cairo.
Advantages:
Comfortable Transportation: Relax in a private, air-conditioned vehicle during the journey between Alexandria and Cairo.
Expert Guides: Benefit from the knowledge and insights of our experienced Egyptologist guides, who will bring history and culture to life with engaging commentary and fascinating stories.
Overnight Accommodation: Stay in a comfortable hotel in Cairo, ensuring a good night's rest before continuing your exploration the next day.
Small Group Experience: Enjoy a personalized and intimate experience in a small group setting, allowing for more interaction with the guide and a relaxed atmosphere.
Instant Confirmation: Book now and receive instant confirmation, guaranteeing your spot on this extraordinary overnight tour.
Itinerary:
Day 1:
8:00 AM: Pickup from Alexandria and drive to Cairo (approximately 2.5 hours)
Visit the Pyramids of Giza and the Sphinx
Enjoy a delicious lunch at a local restaurant
Explore the Egyptian Museum and discover its impressive collection
Check-in at your hotel in Cairo and enjoy free time to relax or explore the city on your own
Day 2:
Breakfast at the hotel
Visit the vibrant Khan El Khalili Bazaar for a shopping experience
Return to Alexandria with a comfortable drive
6:00 PM: Drop-off at your Alexandria location
Inclusions:
Round-trip transportation from Alexandria in a private, air-conditioned vehicle
Professional English-speaking Egyptologist guide
Entrance fees to the Pyramids of Giza and the Egyptian Museum
Overnight accommodation in a Cairo hotel
Lunch at a local restaurant
Breakfast at the hotel
Bottled water during the tour
All taxes and service charges
Exclusions:
Gratuities (recommended)
Personal expenses
Any optional activities or additional purchases
Pricing Information:
| Single | 2- 3 Persons | 4- 6 Persons | 7- 10 Persons |
| --- | --- | --- | --- |
| 412 $ | 272 $ | 267 $ | 257 $ |
Tips and Advice for Travelers:
Dress comfortably and wear sturdy footwear for walking and exploring.
Protect yourself from the sun by wearing sunscreen, a hat, and sunglasses.
Carry a small backpack with essentials such as a camera, water, and any personal items you may need.
Respect the cultural heritage and regulations when visiting the sites. Follow your guide's instructions for a safe and enjoyable experience.
Have local currency (Egyptian Pounds) for any additional purchases or tipping.
Trip Notes:
The tour operates daily, except on public holidays and special occasions.
The itinerary may be subject to change due to unforeseen circumstances or site closures.
The pickup time can be customized to suit your preferences.
This tour is suitable for all ages and fitness levels. Please inform us in advance if you have any special requirements.
FAQs:
Q: Can I customize the pickup time? A: Yes, we offer flexible pickup times to accommodate your schedule. Please inform us at the time of booking, and we will arrange it accordingly.
Q: Is the hotel accommodation included in the tour? A: Yes, the overnight tour includes accommodation in a comfortable hotel in Cairo.
Q: Are vegetarian or vegan meal options available? A: Yes, please inform us of any dietary requirements at the time of booking, and we will make the necessary arrangements.